The Millennial Love Expert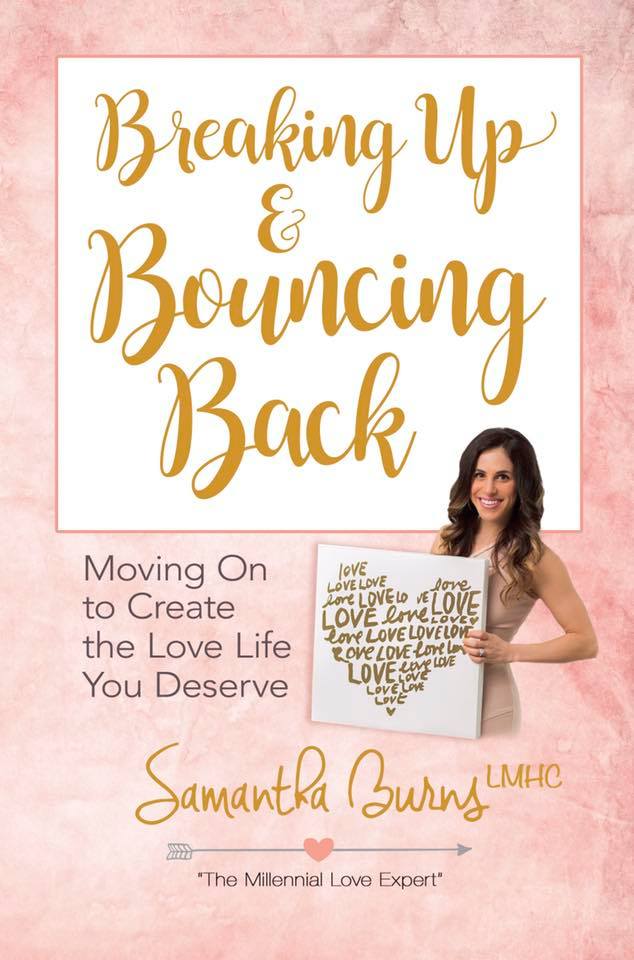 BREAKING UP and bouncing back: moving on to create the love life you deserve
Samantha Burns, "The Millennial Love Expert," shows how to survive a soul-crushing breakup and bounce back to a healthy, happy dating life in this go-to guide for today's dating landscape. Burns teaches readers the critical coping and self-care survival skills to get them off the emotional roller coaster, to see the silver lining of their breakup, and to become smarter, more intentional daters. Her therapeutic tools assist in managing the devastation stemming from heartbreak, modifying thoughts and emotions, and practicing self-reflection in order to become empowered and open to rediscovering love. 
Some examples of Burns's kick-butt breakup tools include: 
Therapeutic exercises that track progress

Meditation, mantras, and deep-breathing exercises to help stop obsessive thinking and control racing thoughts

Cognitive behavioral therapy techniques to manage negative thinking and challenge dating fears

Core value questions for self-reflection and conversation with a future partner 
In a uniquely reader-friendly way, Burns explains the neuroscience of a breakup, supported with the latest psychological research by peers such as Dr. Helen Fisher, Dr. Stan Tatkin, and Brené Brown.
Relatable, educating, and entertaining, Burns's guidance helps readers re-enter the dating market with more confidence and self-awareness, as well as a realistic vision of their perfect match.
done with dating: 7 steps to finding your person
It's time to put an end to dating duds, swiping online, and dead-end relationships. Done with Dating is a practical guide to dating for women who want to stop wasting time and finally find the person they can spend their lives with.
Jam-packed with actionable advice and concrete steps, this book shows you how to create a successful and enjoyable dating life where you're the one in charge. Learn how to confront roadblocks, feel more confident, and handle dating stages that previously left you flustered. Get the tools you need to feel empowered and create the genuine romantic connection you've been looking for.
Done with Dating: 7 Steps to Finding Your Person includes:
Empower yourself―Discover how to be your best self―with no restrictive rules or changing who you are for a partner.

Be confident―Find ways to deal with dating anxiety, show up authentically, and make sure your first date isn't your last.

Take control―Take charge of your love life with tons of practical, easy-to-use tips for what to do on dates two, three, and beyond.
Be empowered to create the dating life you want―Done with Dating will show you the way.
Is he emotionally unavailable?
Are you ready for a commitment? My Good Guy vs Bad Boy Quiz will help you figure out if the man you're dating is emotionally unavailable! Sign up for the FREE quiz:
Learn to love successfully!

The secrets to a happy love life are free... and a click away!
Even the best relationships require effort, so Samantha has laid out the secret ingredients to cook up a happy love life. She's consolidated years of research, field work, and knowledge—along with therapeutic techniques—into one easy-to-read, digestible and entertaining ebook just for you!
No more disconnection, arguing, miscommunication, feeling unloved, or undervalued. It's time to prioritize yourself and your relationship!
Download your FREE copy, and change your love life starting today